Useful Stuff #8 – Get a Real Browser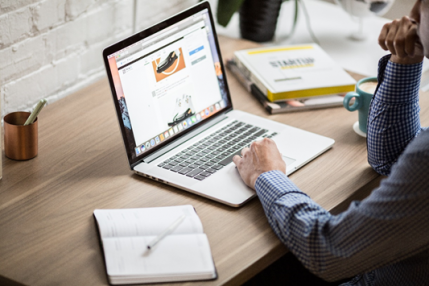 By now you might think I'm a bit of a Google fan boy. I am. Sorry to disappoint. They just make stuff that works. Yes you probably give away your private life but meh I just want to save time.
Google Chrome is that. Its lightening fast, it ALWAYS works, it keeps your bookmarks, history and tabs open across any device and I never never have an issue with it.
I love it so much that any time I get a new computer, including my Macbook laptop and my 'big' Windows PC, the absolute first thing that gets installed is Google Chrome.
It takes a few seconds to download, I sign in and wallah within seconds everything is synced and as I remembered it. I don't have to import anything, I don't need to configure anything, it just works.
Time people, time. Once that minute is gone, its gone.
Choosing a Browser Is Easy, Right?
Depending on your circle of influence, talking about Internet browsers can be like talking about politics. It can be a fiercely exciting discussion and you can walk away feeling so enlightened.
On the other end of the spectrum, you can be the bull in the China shop that completely disrupts the peace and you end up having to take sides. People differ in opinion about browsers and the subject needs to be treated with caution.
I'm honestly not passionate or loyal when it comes to a browser. I simply need it to do what it is intended for, help me browse the Internet and give me a simple problem free experience.
There Are So Many Options
The pace of technology is changing at an incredible pace and you will be surprised how competitive the browser industry has become. I frankly don't think there's much of a difference and you will often find that certain browsers are good for specific applications.
I tasked myself to try and conduct a simple analysis of all the Internet browsers there are available and how they are either good bad or a bit of both.
What do I need to consider when choosing a browser?
To achieve a simple and effective user experience, keep the following in mind:
Am I using the browser on a desktop/laptop computer or a mobile device?
Depending on the device, certain browsers are not supported or considered best practice to use on a mobile phone for example.
Your Microsoft, Apple, IOS or Androids all come with their standard browsers and to be honest they tend to do the job just fine.
I never found real value in installing additional browsers on any of my tablets or mobile phones because the ones that come standard with the operating system works perfectly fine.
Which Operating System Am I Using?
Here comes the territorial dispute. If you are a standard Microsoft user, you will have Internet Explorer, Microsoft Edge or both installed. Apple products all come with Safari installed and depending on who you speak to, they will either love it or hate it. I think Safari is great, but I do point out some flaws below.
I'm a Microsoft user and I personally like having an additional browser installed, because in my experience there is always a situation where the one works when the other doesn't. Call me boring, but I have Google Chrome installed as a backup and a browser called Vivaldi which I gave a rating below.
Do I Access Content That Certain Browsers Can't View?
Believe it or not, but Internet Explorer does have its uses. Despite being the old kid on the block, it is in my opinion the best browser to view flash content. Browsers like Chrome and or Safari can't view flash content.
In my opinion, the minute I struggle for more than a minute with one browser, I immediately close it and open another. I'm not loyal in that sense. It's a simple case of using it as a vehicle to surf the net.
Let's name and shame a few browsers
Internet Explorer or Microsoft Edge
These two options are Microsoft's stable offerings. I have to admit, Internet Explorer is an honest browser and the later versions have really improved leaps and bounds compared to previous incarnations.
Microsoft Edge on the other hand is not intuitive and I personally hate it. I can't seem to understand what makes it so special nor have I cared to research it. I think it's the initial user experience that put me off.
Safari
Apple users (be it MacBook, iPad or iPhone) will know that Safari is the official browser. I own an iPhone and it's a stable browser. It does however fail to display some pages and I find myself refreshing a lot until it takes.
Apart from that I must say Apple is known for its solid build (be it hardware or software), and I personally give them the benefit of the doubt just because I feel safer when using an Apple product.
Google Chrome
This has got to be my ultimate favorite. Chrome is well known, with over a billion downloads so that alone says something. If you are a Google Account holder, then it makes the navigation of its applications so much easier.
Gmail for instance isn't accessible via Internet Explorer nor is it a pleasant experience on Safari. It's also a more intuitive browser when it comes to bookmarks and general settings. I personally recommend installing Chrome as a backup, even if you are a hard-core Internet Explorer or Safari user.
Firefox
This is a browser that does the job and I can honestly not say anything negative apart from the fact that it does feel average. I can't tell you what makes it unique or what it is useful for apart from its own claim that its much faster.
Firefox does however invest in a lot of update and you will see that it's compatible for almost any device, so it must be good on some score.
Vivaldi
This has got to be one of the best kept secrets. A software developer recommended this Scandinavian browser to me one day and I thought I'd give it a go. The amazing thing for me was its compatibility with Google Apps. I now access my Gmail, Drive and YouTube from Vivaldi. This is especially handy if you want to keep your mails separate from that of your partner for instance should you both share the same PC.
So instead of logging in and out likes it's an Olympic sport, simply install Vivaldi and decide which one is your browser. They also do a lot of updates with decent release notes so it feels good and solid.
Moral of the Story
In the end it's a matter of choice, and it will always be up to you. The one thing to never forget is that technology keeps changing and this means that you should never become complacent, even when it comes to your browser.